So in lamenting Pitt's annual early exit from the NCAA tourney I felt obligated to look into
Butler University
because I have no idea who Butler is, where they are from and why they have to stir up trouble for the basketball powers that be.
While my main passion is college football, I graduated from Pitt so, of course, I love Pitt's basketball team unconditionally as well.
Needless to say I was disappointed by Butler's
71-70 dismissal of Pittsburgh
.
After the game I had to look up a little bit about Butler. How many scholarships do they have?..
What conference
do they play in?.. Do they have a Div. 1 football team?
Ultimately, I was convinced enough that Butler is an actual college, so I entered "Butler University Yearbooks" into the search bar and I was surprised to see that
Butler University has their yearbooks posted online
.
The yearbooks have had several names over the years, The Carillon, The Gallery and the name the yearbook started with and has come back to time and time again: The Drift.
The earliest yearbook Butler has available online is from
way back in 1891
, and butler boasted a solid football team even way back then.
One of the interesting things regarding any early yearbook the occasional bias exhibited by student writers.
I particularly liked this page from the 1891 Drift where the writer directly refutes a score on account of the ref not knowing the rules.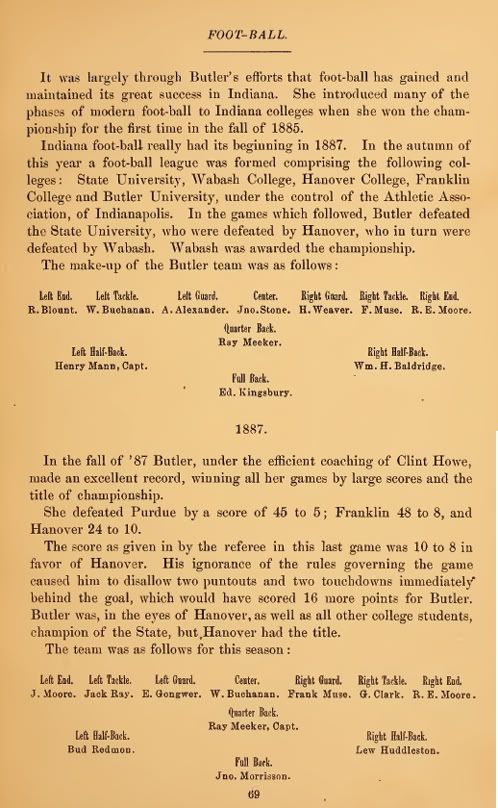 That is definitely a possibility in those early days- especially considering that there were two sets of rules committees even as late as 1896, but I have found no evidence thus far to suggest that Butler was robbed of 16 points vs Hanover and lost the 1887 Indiana state championship as a result.
So while these texts can certainly offer us some more
clarity on football's salad days
- the accounts can be biased and may raise as many new questions as they answer.
In all, this is another great surprise addition to the
yearbooks collection
. This one was produced by the
Internet Archive
and looks great, is easy to use and is keyword searchable. Pitt's loss to Butler in the round of 32 was hard to swallow, but at least I found this one positive in another painful Pitt tournament loss.
_
-------------------------------------------------------------------------------------------
It is the mission of The Unbalanced Line Online Library to present important and interesting historical texts to college football fans. Items will be added regularly as blog postings and can be easily indexed in the Yearbooks button on the site bar.
Copyrighted material is used expressly under the fair use guidelines of U.S. Code 17 #107 through #118 stating that the criticism, comment, news reporting, educational use or research of copyrighted material is not held in violation of copyright laws.
_______________ © 2011 The Unbalanced Line _______________