The Army football team won't be the only ones bringing the Awesome to Colorado Springs... ESPN will be on site to broadcast College Gameday on Saturday. The College Gameday site has the year-to-date news for both Army and Air Force as well as players to watch for the game.

It will be all eyes on Trent Steelman as the man to watch for Army.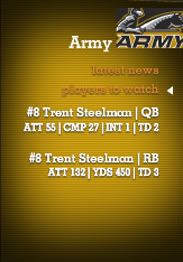 I don't know if we really have to keep an eye on Steelman's pass game as his 55 attempts on the year and 1TD 2INT ratio isn't really all that newsworthy, but #8 is a force and will do his best to put his stamp on this game.

Last week against Colorado State, Air Force likewise felt free to air the ball out:


But a breakout performance it was for Air Force's aerial attack when quarterback Tim Jefferson completed 7-of-12 passes for 111 yards and two scores in Saturday's 34-16 victory over Colorado State at Hughes Stadium.
Rich Ellerson's press conference gives a look at what to expect from the Falcons.
"Air Force does some things out of different formations -- they are a little bit more plural than we are. They get into a few more looks and do a few more things, but the core of what they challenge you with, the most difficult things they do to defend, are things that we have a background in. Obviously we see (the option offense) routinely, but having that extra time to see it concentrated over a longer period of time can't help but prepare you for the speed that's going to happen on Saturday."
The Army - Air Force game notes are up, lots of information there; of course this is a big game for a variety of reasons:

AN ARMY WIN VS. AIR FORCE WOULD ...

End Army's 12-game losing streak in games played after October.
End the Black Knights' two-game road losing streak.
Give the Black Knights four wins in a season for the first time since 2005 (4-7).
Avoid putting the Black Knights three games under the .500 mark for the first time this season.
Snap a three-game losing streak to the Falcons.
End Army's seven-game skid in Commander-in-Chief's Trophy contests.
Mark the first time Army won two road games in a season since 2005 (at Akron; at Air Force).
Get pumped. ESPN College Gameday, CBS College Sports Network national broadcast, and it's the first service academy game this year... exciting times for Army football.