Hardin-Simmons has fielded a football team since 1897.


In their 113 years the Hardin-Simmons Cowboys have played more than a bit part on the college football stage:

Sun Bowl participants in 1935, 1936, 1942, 1958 (1-3)
Alamo Bowl winners in 1946
Harbor Bowl winners in 1947
NAIA (Div. 3) tournament mainstay in the more recent 90's

Hardin-Simmons has true football tradition.

It's a delight to add the the Hardin-Simmons Yearbook collection to the yearbooks page. The Hardin Simmons Bronco has been in publication since 1908 and the collection is largely complete through the year 2007.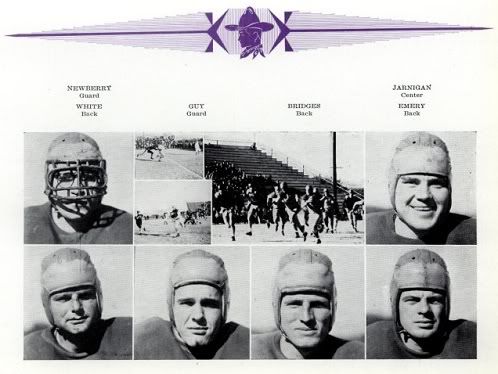 Hardin-Simmons football team members 1936

Through the pages of the bronco are season retrospectives, pictures and game recaps which are all very interesting to me even though I have no ties to the school. Come to think of it... all of the yearbooks are pretty good - you should check them out often.






-------------------------------------------------------------------------------------------

It is the mission of The Unbalanced Line Online Library to present important and interesting historical texts to college football fans. Items will be added regularly as blog postings and can be easily indexed in the Yearbooks button on the site bar.

Copyrighted material is used expressly under the fair use guidelines of U.S. Code 17 #107 through #118 stating that the criticism, comment, news reporting, educational use or research of copyrighted material is not held in violation of copyright laws.

_______________ © 2010 The Unbalanced Line _______________








_